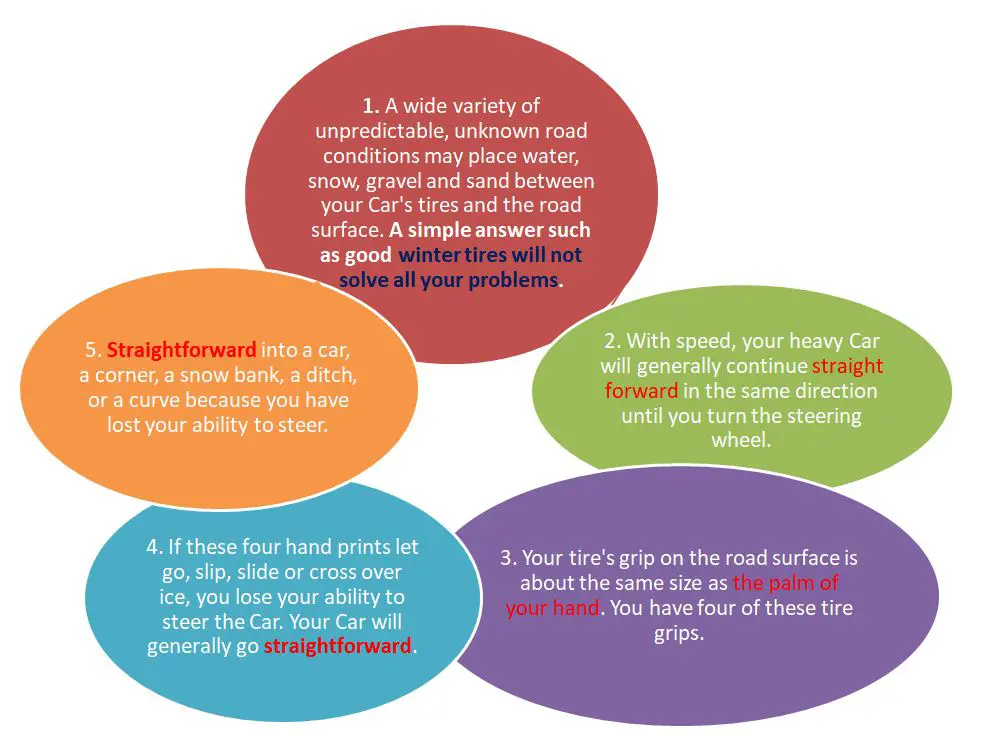 SO WHAT IS THE ANSWER TO KEEPING OUT OF TROUBLE IN THESE DIFFICULT SITUATIONS?
ANSWER IS … Do not lose your grip on the road in any of the above situations!
HOW DO I DO THIS?
Slow down in straight lines well before the corner so that, if the grip lets go, you have lots of time to slide straight and slow down before the intersection or corner comes.
Keep your following distance super far from vehicles in front of you so that when and if you lose your grip you have ample space directly ahead of you to slide and slow down and eventually regain your grip again.
Learn to test and track the road surfaces using the COOPER SKID 1 to 10 ranking system to KNOW what the surface's traction is as road colours change well ahead of you so that you don't lose drip in the wrong places.
It's winter. Your Car will slide. You will lose grip! The key is to lose grip in places where it's okay. And never lose grip in the wrong places.
Your best tires are tires with a deep tread, with proper air pressure, appropriately aligned, and attached to a mechanically safe well, maintained car. Plus, learn how to see the grip of the road ahead of you using the Cooper Skids 1 to 10 Ranking.
Previous post I have Talked about Skids and The 1 to 10 ranking.
FREE Course on WINTER DRIVING BY WORKBC
Momentum is the tendency of the object to keep moving in the same direction unless acted on by an outside force. Momentum is the product of the mass of a body and its velocity.
This a great topic to discussion your next Vancouver driving lesson.