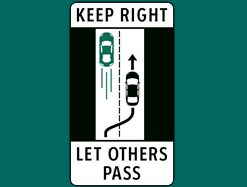 Drivers should think twice about hogging the left lane on high-speed highways when new rules come into effect. Legislation introduced today will make it easier for police to ticket drivers who don't move over.
The Rural Highway Safety and Speed Review found there was significant public concern with slow drivers travelling in the left lane on high-speed highways, leading to driver frustration and aggressive driving behaviours. The Motor Vehicle Amendment Act, 2015 clarifies that drivers are to travel in the right lane, unless they are:
overtaking and passing another vehicle,
moving left to allow traffic to merge,
preparing for a left hand turn,
moving left to pass an official vehicle displaying a flashing light.
Drivers will be permitted to use the left-most lane if it is unsafe to use the right lane – for example, if the right lane is not yet ploughed or there is debris in the lane. As well, during periods of traffic congestion when the actual travel speed drops to 50 km/h or less, drivers can use all lanes.
There are Many Other Signs that encourage us to stay to the right of objects.
Rules of the Road.