stay in your lane, on waiting positions on green lights keep the wheels straight!
center of lane to go straight, move right to setup a right, left to setup a left, be consistent, no jerky movements
do not use one-hand, do not palm the wheel., do not put your hands inside the steering wheel, hill parks turn the wheels appropriately
car should remain level and not go off balance sway or skid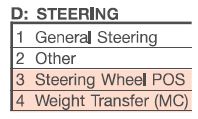 This information is provided to every driver following a driving test pass or fail. Everyone walks away with these five keys in print, provided by your ICBC examiner.