This example is used for an experience new-to-Canada driver on Class 5 'N' driving lesson.
Go Read What Happens on a "Never Drove Before Driver" First Lesson.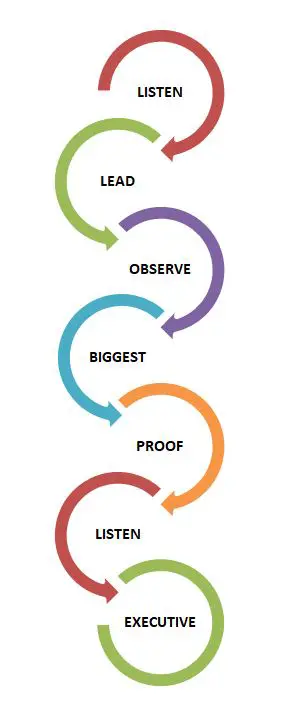 '1. LISTEN TO THE CLIENT'S WORDS
"I am Scared At Intersections."
Nice to meet you. How are you? How much have you driven? What's the purpose of coming to see me? Is there anything specific you want me to see?
Listen to both the words and the tasks you talk about, as well as your descriptions and opinions of each task. This self-evaluation is compared to my huge library of driver education and to your performance during the rest of this lesson.
---
'2. LEAD (OR FOLLOW) CLIENTS' SUGGESTIONS
"I do not enjoy driving. It stresses me out."
Let the client lead the session – I follow. Or I lead – the client follows. Whichever the client chooses, we do.
---
'3. OBSERVE CLIENTS DRIVING (15+ MINUTE DRIVE)
"Asks which way I want them to go at a one-way street."
Typically for 10 or 15 minutes, I document your performance. As well, I document your words during each task. I ask for multiple tasks of the driver during this mini-assessment. Typically I let the driver go on their own without my interference for 15 minutes. I remember each move and document their actions or inactions.
---
'4. PRESENT BIGGEST DIFFICULTY/SOLUTION (THE SINGLE BIGGEST CHUNK)
"Does not read all the signs but says nothing about missing signs."
What's the top issue this driver faces? What is the BIGGEST step to solving the problem? We then apply this most prominent solution and watch how the driver responds.
---
'5. PROOF (& REPEAT) USING THE CLIENTS OWN WORDS & ACTIONS
"We go back to the one-way street again and recall when they asked me which way to go and did not see the two signs that tell us we must only turn right."
Use their first 15-minute experiences to demonstrate their most significant weakness by repeating the original moves in the exact locations.
If I say it, you may doubt it. If you say it, you believe it.
We repeat the same turns. This repetition allows the client to use the teaching that occurred for the bulk of the 90 minutes. We also recall the words they used initially as we apply the changes.
---
'6. LISTEN TO THE CLIENT'S WORDS/CHANGES
"Yea, I agree my biggest weakness is not reading crucial signage. It's surprising how many examples you showed me. I never realized it. I remember asking you which way to go!"
How much did the client absorb? What do they suggest we do next to help get to their goal?
Here you help the client plan their future learning.
---
'7. EXECUTIVE ENGAGED TO OVERVIEW PLAN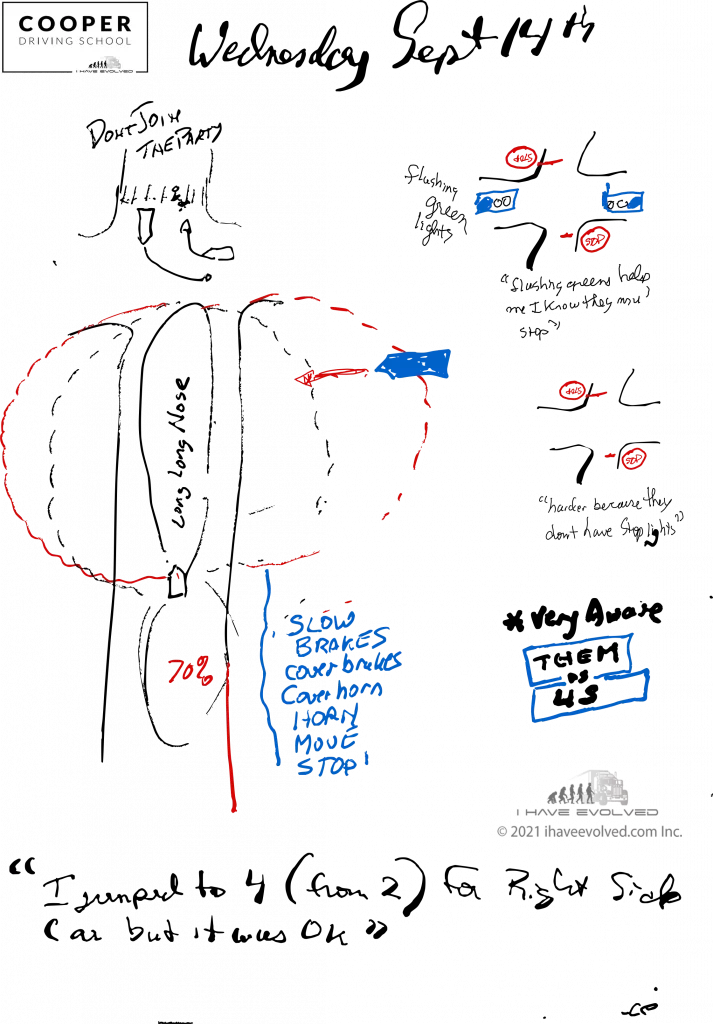 Together both brains review our activities to date and refocus our efforts with adjustments to our overall plan and goals.
A picture is a thousand words.
Voila!
---
QUESTIONS TO ASK BEFORE YOUR NEXT DRIVING LESSON
What is their training? Basic 3 weeks to become an instructor?
Did the 3 weeks teach them safe driving strategies or crash research or any research studies at all?
What about their own driving skills? Are they trained? Skid school? Pull a trailer? Stick shift? First Aid? Any other safety training of any kind?
What was the last research study they read? Or have they ever read anything related to safety crashes, causes or the effect education has on drivers?
What is their crash experience? How do they drive?
How many years ago did they take their last training program or any related training? 20 years ago! Never!
GO TO THE INSTRUCTOR's WEBSITE, FIND THE TESTIMONIALS NAME, SEARCH REDDIT, WHATSAPP, MESSENGER, FACEBOOK, INSTAGRAM AND ASK THE REAL PERSON WHAT THEIR EXPERIENCE WAS WITH THE DRIVING SCHOOL AND INSTRUCTOR before you drop $600+ DOLLARS!
You maybe be surprised AT the difference between the 5 stars RATING and what real clients say!
YOU NEED TO DIG TO FIND TRUE QUALITY!